Mold Removal
Humidity in Des Moines is highest in the spring and summer with frequent thunderstorms occurring throughout both seasons. The hot, humid climate creates the ideal environment for mold to grow. The technicians at 911 Restoration of Des Moines understand the importance of fast mold remediation. Mold spores can begin developing into a full-blown infestation within 24 hours of being exposed to moisture. As soon as technicians arrive at your property, they will provide the property owner with a free visual mold inspection and air quality sampling. This assessment allows us to determine the extent of the damage and source of the mold growth.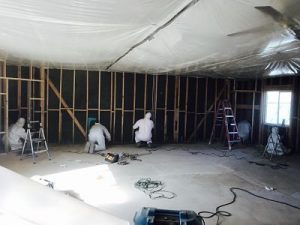 More often than not, mold is a byproduct of leak and flood damage, making it crucial to hire a restoration company that specializes in both water and mold remediation.
Customers can trust that along with providing prompt mold cleanup, our repair techs are also prepared to water damage West Spring.
911 Restoration of Des Moines is dedicated to delivering affordable, high-quality mold remediation, which is why we only work with the most credentialed technicians.
The professionals at 911 Restoration have earned their IICRC certification from the Institute of Inspection, Cleaning, and Restoration, an organization that sets the standard for the industry.
Not only do we only work with the most competent repair techs, but our entire organization is licensed, bonded, and insured, so it protects all customers in full.
From West Des Moines and Urbandale to Pleasant Hill and everywhere in between, 911 Restoration wants to be the go-to, mold cleanup company for Des Moines. When you need affordable and efficient, mold decontamination services, call the team you know cares and understands your needs today!
Water Damage Repairs Can Prevent Mold Infestations
There are many opportunities for water to invade homes and businesses in Des Moines. Between the summer thunderstorms and the winter snowfall, water can invade structures and create extensive damage.
When water damage forms inside a property, it is crucial to mitigate the situation as quickly as possible. If the moisture is left to sit for as little as 24-48 hours, it can lead to a mold problem.
The technicians at 911 Restoration of Des Moines are ready to conduct expert mold cleanup and water restoration on a moment's notice. A lot of the time, both of these issues need to be mitigated simultaneously, and the technicians are prepared to do just that.
Once the repair techs have completed their initial mold inspection and air sampling, they will get to work executing their restoration strategy. If technicians find a link between the water damage and mold, they will conduct thorough water extraction services.
After we remove the bulk of the water, technicians will focus on structural drying and dehumidifying procedures. Getting your property as dry as possible is integral to preventing future infestations, especially in the humid Des Moines climate.
Customers can depend on technicians to administer comprehensive water and mold remediation in both residential and commercial flood cleanup properties. So, call 911 Restoration of Des Moines as soon as you discover signs of mold and our experts are sure to give you peace of mind today.
Professional Mold Sampling And Testing Services
Various mold species contain different levels of toxicity. It is generally not possible to decipher how toxic mold is by its color, even if it looks like "black mold."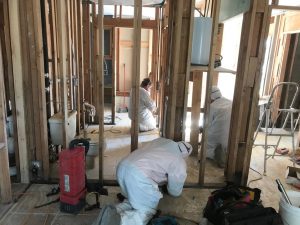 Many different types of mold appear to be black, but not all black-colored mold is Stachybotrys chartarum, also knows as black mold.
The only way to know for sure what mold is growing in your property is by testing the substance. Our technicians will take professional mold samples from your property to be tested for air sampling.
911 Restoration of Des Moines will facilitate the mold testing by sending the samples to a third-party laboratory where scientists will determine the species and toxicity of the mold and the air quality sampling.
This information will allow our technicians to take the appropriate action needed to keep you and your family safe during the mold remediation effort. If they determine black mold in your property, you can rest assured that we are fully capable of safely removing and disposing of the fungi.
Your safety is the top priority of 911 Restoration of Des Moines. Call the technicians you can trust to complete the mold cleanup services needed to give you the Fresh Start you need to recover from any infestation today!
Serving the communities of Altoona, Ankeny, Carlisle, Des Moines, Indianola, Pleasant Hill, Urbandale, West Des Moines and surrounding areas.