Mold Removal in Altoona
Mold spores are everywhere, both indoor and outdoor. They can get inside your home or business through open windows, doors, HVAC systems, people, and pets. Mold tends to grow in unexpected places that are usually hard to reach. 911 Restoration of Des Moines knows where to look for mold growth on your property. Our technicians understand spores can reproduce quickly, and infestations require swift mold remediation. We are ready to provide mold decontamination in Altoona on a moment's notice.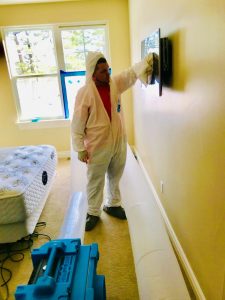 Our technicians will provide free mold inspections to property owners. During the surveillance of the property, we will look for signs of both mold and water damage.
Indoor water issues, such as rainwater leaks, basement flooding, and pipe bursts, are the leading cause of mold infestations. 911 Restoration of Des Moines specializes in water damage restoration and will address any moisture problems contributing to mold growth.
Along with advanced mold removal services, our technicians will also conduct water damage repairs, drying, and dehumidifying procedures. Since mold thrives on moisture, getting your property as dry as possible is the best way to prevent future infestations.
When you work with 911 Restoration of Des Moines, you can trust that you are in the care of the most qualified technicians. We hire IICRC certified professionals that are fluent in both residential and commercial mold restoration.
Our entire water damage company is licensed, bonded, and insured for your protection. We want you to feel safe and secure when you hire our team for mold decontamination services.
Call 911 Restoration of Des Moines when you need mold removal in Altoona. Our experts guarantee that with our help, your property will pass our mold clearance test.
The Top Plumbing Problems That Lead to Mold
Your property's plumbing system is one of the most critical parts of the structure. While it provides you with drinking water, showers, baths, and clean laundry, it can also create water damage and mold.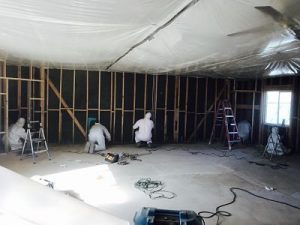 If you want to keep your property protected against leaks, floods, and mold, then you need to maintain your pipes. To do this, it's important to be aware of the signs that you have a plumbing problem in the first place.
One of the easiest ways to stay on top of your plumbing maintenance is to look at your pipes. If you notice discoloration or rust, then you probably have a leak. This might be a dripping sink or a leak in the main supply line. Whatever the problem may be, it's crucial to repair the leak immediately.
A change in the smell coming from your drains is another clear indicator of a plumbing issue. If you notice a sewer odor, then your drain trap may have a crack. Since sewer vents are inside walls, you may need to open the sheetrock to track down the leak.
It is also essential to pay attention to your water pressure. If you have a slow stream of water coming from multiple locations, then there may be a problem with the water main, water heater, or supply line. It is vital to mitigate any plumbing leaks right away. Water damage on sheetrock, wood, furnishings, or other porous materials can lead to a mold infestation in as little as 24 hours.
Along with plumbing issues, the climate in the region can contribute to indoor mold growth. 911 Restoration of Des Moines understands how imperative it is to provide emergency water damage and mold removal.
Call our technicians as soon as you notice any of the signs mentioned above or notice mold growth anywhere in your Altoona property. We will arrive with comprehensive mold decontamination services that address both the fungi and water damage.
911 Restoration Gives Property Owners Free Mold Inspections
Since mold and mildew mainly grow in hidden areas of the property, overlooking an infestation can be easy. 911 Restoration of Des Moines doesn't want you to feel as if you are taking a financial risk by calling us for mold removal services, especially if you are unsure if you have a mold problem or not.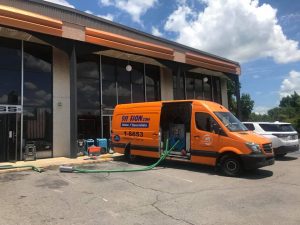 To put your mind at ease, we provide property owners in Altoona with free mold inspections. We will check the entire property, including attics, crawlspaces, air ducts, and any anywhere else mold spores may be growing.
It is essential to stay aware of the signs that mold is living on your property, so you know when it is time to reach out for professional mold decontamination.
If you smell a musty odor in one or more rooms of your property, then you may have mold. Spores can get inside your air conditioning unit, heating system, and air vents and spread throughout the property.
Mold can also cause you to experience health problems. Some molds are toxic and can induce allergies and respiratory issues. If you experience symptoms when you are inside your home or business, then it may be a sign of an infestation.
Whatever the situation, 911 Restoration of Des Moines will give you peace of mind as soon as they arrive. With our comprehensive mold removal, we will return your property to the clean, safe state you deserve.
Servicing the cities of Altoona, Ankeny, Carlisle, Des Moines, Indianola, Pleasant Hill, Urbandale, West Des Moines, and the surrounding areas.