Mold Removal in Urbandale
As harmless as the mold growth in your property may appear, there is always a chance that the spores may affect your health. 911 Restoration of Des Moines understands the potentially hazardous nature of a mold infestation. We are ready to conduct expert mold removal in Urbandale. Our technicians specialize in both residential and commercial mold remediation, so whether you own a home or business, you can trust us to entirely eradicate your mold problem.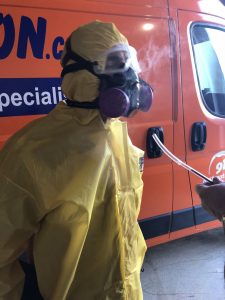 911 Restoration of Des Moines realizes that time is of the essence when dealing with mold. Spores can spread within 24 hours of coming into contact with moisture. We will respond quickly to provide the property owner with a free mold inspection and estimate.
Along with checking for mold growth, we will also look for signs of water damage during the initial assessment. Moisture issues are the leading cause of indoor mold. It is crucial to address any leak and flood damage to stop an infestation completely.
Fortunately, our repair techs have years of experience in mitigating water and mold damage. You can trust us to handle every aspect of the mold cleanup effort. We will conduct water damage repairs, drying services, and mold decontamination in Urbandale.
We pride ourselves on employing experienced, qualified staff members. 911 Restoration of Des Moines works with IICRC certified technicians and is licensed, bonded, and insured for your protection.
Call the team that cares and understands what you need to recover from a mold infestation. 911 Restoration of Des Moines is ready to prove to you that a Fresh Start is possible!
What is Mold Testing and How Can it Help You?
There are many different types of mold species that can grow inside homes and businesses in Urbandale. While most molds are harmless, there is always the potential for toxic spores to invade your property.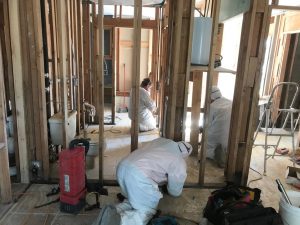 It is not possible to tell if the mold growing on your property is hazardous to your health just by looking at it.
Professionals should administer the sampling and testing services to determine the spores' toxicity levels. 911 Restoration of Des Moines will facilitate the testing process to ensure no health hazards are growing on your property.
Our technicians will take surface samples of the mold spores and send them to a third-party laboratory. Professionals will test the samples to determine if the mold in the home or business poses a health risk.
Experts who have experience following professional protocols should conduct sampling for mold. You can trust that 911 Restoration of Des Moines will follow the proper methods needed to gather spores correctly for analysis.
Once we understand the characteristics of the mold growing on your property, our technicians can follow through with the appropriate mold decontamination services.
Keeping you safe during the mold cleanup procedures is our main priority. So, call 911 Restoration of Des Moines to receive comprehensive sampling, testing, and mold removal services today!
Mold Removal Services From a Water Damage Company You Can Trust
911 Restoration of Des Moines is different than other mold remediation companies because we also specialize in water damage restoration.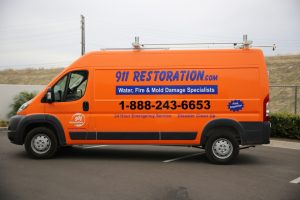 Mitigating both issues simultaneously is crucial in not only eradicating an existing infestation but preventing future mold growth.
Our technicians want you to have total confidence in our mold decontamination abilities so that you can feel safe in your property. We don't want you to have any questions about your environment.
We will thoroughly check the property for water damage that may be contributing to the mold infestation. If there are issues such as ceiling leaks or basement flood damage, our repair techs will promptly conduct water damage repairs.
When we conduct water restoration, we focus on structural drying and dehumidifying services. Getting the property as dry as possible is vital to mold removal. The drier the area, the lower the chances are that mold will come back.
With 911 Restoration on your side, we guarantee your property will pass our mold clearance test. Our repair techs will conduct meticulous mold decontamination that leaves your property clean, dry, and, most importantly, safe.
So, call our highly trained technicians today so we can get begin the mold removal services that are sure to give you the Fresh Start you deserve!
Servicing the cities of Altoona, Ankeny, Carlisle, Des Moines, Indianola, Pleasant Hill, Urbandale, West Des Moines, and the surrounding areas.