Mold Removal in Indianola
It is essential to address mold as soon as you discover any growth. The humid continental climate in Indianola makes for an ideal environment for mold growth. If water damage is present, then an infestation can grow at an exceptional rate. 911 Restoration of Des Moines understands that prompt mold decontamination is crucial. Our technicians will conduct extensive mold removal in Indianola to ensure your property stays safe and clean.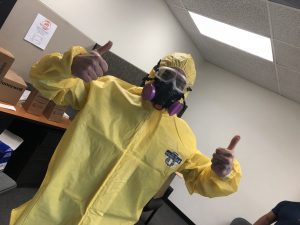 As soon as we arrive, our technicians will provide the property owner with a free mold inspection and estimate. Since moisture causes infestations, we will look for both mold and water damage.
911 Restoration of Des Moines specializes in both water damage and mold restoration. We will mitigate any leak and flood damage found on the property to aid in the prevention of future infestations.
You can feel confident in our ability to handle even the most severe mold intrusions. We employ IICRC certified technicians that are experts in both residential and commercial mold restoration.
Our entire restoration company is licensed, bonded, and insured. When you hire 911 Restoration, we will protect you in full under all circumstances. You can be sure you're under the care of the most qualified professionals.
So, call 911 Restoration of Des Moines when you need mold cleanup services in Indianola. We will respond quickly with the mold remediation services you need to obtain a Fresh Start!
Moisture is the Most Common Cause of Mold in Attics and Basements
Water breeds mold and mildew. Even a minor moisture problem can turn into a significant mold infestation. The only way to completely eradicate mold is to address any leaks and flooding issues on the property.
Sometimes it is easy to find the moisture source, but there are other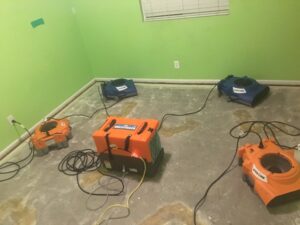 instances where a professional eye is needed to identify the water damage.
Our technicians will conduct comprehensive water and mold inspections in the attic, basement, crawlspace, and anywhere else on the property.
The basement and crawlspace are the most common areas for mold. Since these underground spaces are prone to staying damp when water damage is present, the likelihood of mold growth significantly increases.
Rain leaks, flooding, and pipe bursts can all create mold in the basement. The water can seep into the walls and foundation, creating water damage on sheetrock that can quickly lead to a mold infestation.
Your attic is another place mold likes to grow. The bypasses in the attic allow warm, humid air inside the property, causing condensation buildup. By sealing off the air leaks, we can reduce the amount of moisture in the attic and subsequently minimize mold.
Our technicians will use infrared leak detection technology to find all traces of moisture inside your home or business. You can trust us to make water damage repairs and conduct thorough mold decontamination in Indianola.
We specialize in both water damage and mold removal. Our technicians understand that prompt water restoration is crucial to the mold cleanup process. So, call 911 Restoration of Des Moines to receive help from a team that cares and understands what you need today!
Mold Cleanup Services From a Water Damage Company That Cares
As challenging as mold removal may seem, 911 Restoration of Des Moines will give total peace of mind as soon as we arrive. Our technicians will handle every aspect of the mold cleanup process with the utmost professionalism.
911 Restoration of Des Moines knows that customer service is an integral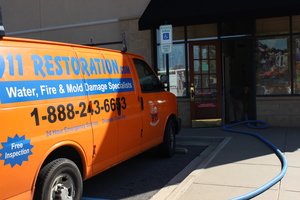 part of the mold decontamination. Mold can be hazardous to your health, and keeping you safe is our top priority. 
Toxic mold can cause you to experience allergy symptoms and respiratory issues. In some cases where black mold is present, more severe health problems like lung infections may occur.
To ensure your safety, our repair techs will take mold samples from your property and facilitate professional testing services at a third-party laboratory. By determining the mold's toxicity, we can take the appropriate steps to eradicate the infestation safely.
911 Restoration of Des Moines wants to make it as easy as possible for you to receive mold cleanup services. We offer affordable mold and water restoration rates and provide full-service mold removal.
Call our professionals as soon as you notice signs of water damage or mold growth on your property. 911 Restoration of Des Moines will show you that with expert mold removal, a Fresh Start is possible!
Servicing the cities of Altoona, Ankeny, Carlisle, Des Moines, Indianola, Pleasant Hill, Urbandale, West Des Moines, and the surrounding areas.