Mold Removal in Des Moines
Between the humidity and precipitation levels in Des Moines, there is a lot of opportunities for mold and mildew to grow inside homes and businesses. Plumbing issues and normal property wear and tear can also cause mold infestations. 911 Restoration has extensive experience conducting mold removal in Des Moines. Our technicians understand the ways that mold affects the area, and we are ready to assist you on a moment's notice. There is no time to waste when dealing with mold. We are qualified to conduct both residential and commercial mold restoration.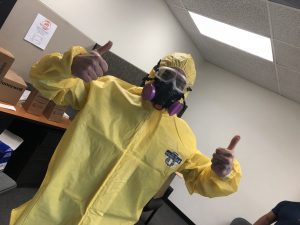 Property owners will receive a free visual mold inspection. By thoroughly checking your property, we can formulate an estimate of the mold decontamination needed to eradicate the infestation.
We want you to feel confident in our ability to provide you with successful mold remediation. 911 Restoration of Des Moines employs IICRC certified technicians and is licensed, bonded, and insured for your protection.
It is crucial to reach out to 911 Restoration of Des Moines when you are affected by leaks, flooding, or any moisture issues.
We will address any water damage contributing to the mold growth since often both issues are intertwined. Along with water and mold restoration, our repair techs will conduct structural drying and dehumidifying services.
Getting your property as dry as possible is key to stopping any current mold growth and preventing future infestations. You can count on us to take care of every aspect of your mold problem.
Call 911 Restoration of Des Moines when you need professional mold removal services in your home or business. Our highly trained technicians will turn your mold problem into a Fresh Start today!
Plumbing Problems and Mold Growth Go Hand in Hand
The last thing you want to deal with as a property owner is a pipe burst. Bursting water pipes are one of the most destructive situations you can experience for many reasons.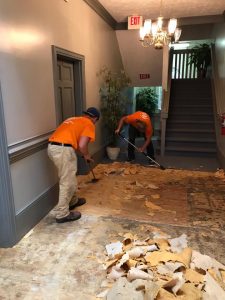 Not only can pipe bursts create house flooding issues, but they can be the catalyst to a mold infestation. When your property becomes water damaged, it can take as little as 24 hours for mold to begin to grow.
If you want to prevent mold, one of the main things you can do is maintain your plumbing system to avoid bursts and leaks. The best way to do this is by staying aware of the causes of plumbing malfunctions.
Winters in Des Moines can be freezing. When the temperature drops this low, your pipes can freeze. When your pipes freeze, so does the water inside. As more ice accumulates, the pressure inside the pipe builds up, and it eventually breaks. Once the ice thaws, it will burst through the metal and flood the property.
Tree roots can also lead to broken pipes. As roots grow over the years, they can encroach upon the plumbing system and wrap around the water pipes. Most pipes aren't strong enough to withstand the grip of tree roots and will crack under pressure.
Along with underground roots, soil shifting is another environmental problem that can impact your pipes. When the soil around your water pipes become too dry, it can shift and move the pipes. Old or damaged pipes can break and crack when they move within the soil, leading to a significant leak.
Not only can old pipes break during a soil shift, but through normal wear and tear. Steel pipes, in particular, are susceptible to corrosion. They can easily burst when they become overrun with rust and hard minerals.
Understanding the leading causes of plumbing problems is the first step in preventing mold. Fortunately, if you experience any of these issues, 911 Restoration of Des Moines will provide you with comprehensive water damage and mold removal services.
Call our technicians when you need immediate mold decontamination in Des Moines. We will address every aspect of the situation quickly to give you the peace of mind you deserve!
Our Water Damage Restoration Company Focuses on Mold Decontamination
Working with a restoration company that expertly understands both water damage and mold restoration is vital to your recovery. 911 Restoration of Des Moines offers both these services so you will obtain a full recovery.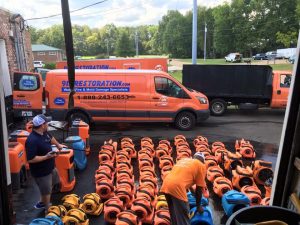 Not only can mold eat away at your sheetrock, wood, and organic material on your property, but it can impact your health. Certain molds are toxic and can cause allergy issues and respiratory problems.
Our technicians will facilitate professional mold sampling and testing services to determine the type of mold growing inside your home or business. We send the samples to a third-party laboratory to confirm their toxicity levels.
You can trust that we will take the appropriate steps to keep you and your loved ones safe during the mold removal process. If we need to remove moldy sheetrock or other items, our technicians will do so with the utmost care as to not contaminate other parts of the property.
When you work with 911 Restoration of Des Moines, you will receive help from a team that cares and understands what you need. We guarantee your property will pass our mold clearance test once our technicians have completed the mold decontamination.
Call 911 Restoration of Des Moines as soon as you discover signs of mold or water damage in your home or business. We will provide you with the mold removal services you need to make your property a clean, safe place once again.
Servicing the cities of Altoona, Ankeny, Carlisle, Des Moines, Indianola, Pleasant Hill, Urbandale, West Des Moines, and the surrounding areas.