Disaster Restoration in Des Moines
Des Moines is prone to experiencing natural disasters that are mainly associated with severe weather, such as torrential rainfall, flooding, tornadoes, high winds, ice storms, blizzards, and heavy snow. All of these situations can lead to water damage and property destruction that is devastating enough to warrant professional disaster restoration. 911 Restoration has been in the industry for decades and understands the urgency of any of these circumstances. Our technicians are available 24/7/365, making it possible for customers to reach out to them the moment a disaster strikes. If you are dealing with a water-based emergency, repair techs guarantee to arrive at your property within 45 minutes, no matter what time it may be.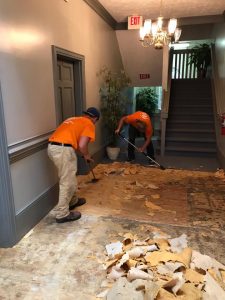 As soon as technicians arrive on-site, they will conduct a free visual inspection for the property owner. This assessment will allow them to determine the extent of the damage and formulate an estimate.
Customers can trust in 911 Restoration of Des Moines' ability to totally restore your home or business from any disaster. We work with IICRC certified technicians who are trained to administer disaster restoration in both residential or commercial properties.
It is important that you feel completely at ease when you hire 911 Restoration, which is why the entire organization is licensed, bonded, and insured for your protection.
Technicians are prepared to mitigate the seasonal disasters that influence the region. Each branch is locally owned and operated by a staff that understands the specific disasters that affect West Des Moines, Urbandale, and the greater Des Moines area.
The repair techs equipped to execute disaster restoration services for any emergency, from mitigating ranch house floods and basement flooding incidents to repairing water damage on sheetrock and conducting carpet drying.
Call 911 Restoration of Des Moines as soon as your home or business feels the impact of a disaster. Our technicians will give you peace of mind that any disaster can be the beginning of a Fresh Start!
Emergency Water Restoration After A Tornado Affects Your Property
Iowa is part of tornado alley and frequently experiences severe weather that leads to flash floods, wind damage, and property damage in structures throughout the area.
Typically, tornadoes cause significant flooding that can fill the streets and spill over into homes and businesses.
When experiencing a disaster of this magnitude, it is crucial to receive water damage West Spring. 911 Restoration of Des Moines will respond immediately to begin flood cleanup services.
Tornadoes accompany torrential rainfall and violent wind. The wind can throw large items and debris into the property, creating damage to the roof and foundation. Wind damage can also break windows and allow rain to get inside.
Basement flooding is a common problem caused by tornados and storms. The floodwater can seep into the foundation or overwhelm the plumbing system to cause indoor water damage.
Technicians will dry out basements after a flood to prevent wood rot, mold in pipes growth, and crumbling sheetrock. By implementing air movers and dehumidifiers, repair techs will thoroughly dry the area and get rid of any mildew odor.
Call 911 Restoration of Des Moines as soon as you incur damages from a tornado or rainstorm. Technicians will implement a disaster restoration strategy that is sure to restore your property.
A Water Damage Company That Takes Care Of Every Aspect Of Your Disaster
911 Restoration of Des Moines wants to be the company you can depend on to guide you through a disaster. Staff members will help you with every aspect of the recovery process, from start to finish.
It is our priority to make you feel calm and secure during this chaotic time, and the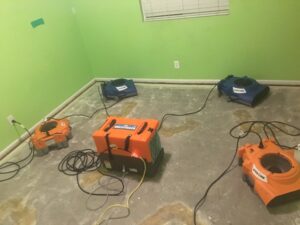 best way to do that is by giving you as much information as possible. Technicians on-site will be able to answer all your questions regarding the damage to your property, water restoration rates, and the recovery timeline. They will make themselves readily available to assist you at any time.
Many customers need help with insurance logistics. To help make this process as easy as possible, 911 Restoration of Des Moines offers its customers free insurance consultations.
By having a professional go over your insurance policy, you will have the assurance that you completely understand the coverage you are entitled to receive from your insurance provider.
Repair techs will assist you with taking inventory of the damage so you can create an itemized list of your losses to your insurance company. They will bill your insurance company directly and submit your claim for you.
911 Restoration of Des Moines is ready to help you with literally every aspect of the disaster restoration. Call the team that cares and understands your needs today!
Serving the communities of Altoona, Ankeny, Carlisle, Des Moines, Indianola, Pleasant Hill, Urbandale, West Des Moines and surrounding areas.