Mold Removal in Carlisle
As tempting as it is to clean mold on your own, you should not handle spores without the proper equipment. Mold spores can be as harmful to your health as your property, and infestations require meticulous mold restoration. 911 Restoration of Des Moines is ready to provide you with the mold decontamination you need to ensure your property stays safe and secure. Our technicians will give the property owner a free mold inspection and estimate of the mold removal services needed to eliminate the infestation.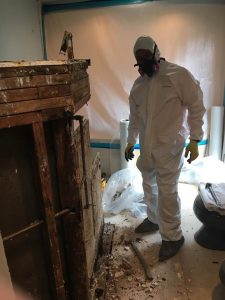 Along with mitigating the mold problem, we will also check for water damage contributing to the infestations. You can count on our technicians to handle every aspect of the mold cleanup.
911 Restoration of Des Moines wants you to have total confidence in our ability to get rid of your mold infestation. We employ IICRC certified technicians that are experts in both residential and commercial mold remediation.
Along with hiring experienced, certified mold specialists, our entire restoration company is licensed, bonded, and insured for your protection. When we arrive, you will be under the care of the most qualified repair techs in the industry.
We understand that moisture breeds mold, and the only way to fully eradicate an infestation is to cut off its life source. When our technicians arrive, they will address any leaks and flooding issues, as well as focus on structural drying and dehumidifying techniques.
Our restoration company specializes in conducting both water damage and mold removal in Carlisle. Our staff members will guide you through every step of the recovery process to make sure you have peace of mind about all the work going on in your home or business.
When you hire 911 Restoration of Des Moines, you will receive help from a team that cares and understands your needs. So, call the mold experts you can trust to give you the Fresh Start you deserve.
Preventing Mold After a Basement Flood
Carlisle experiences spring showers and summer humidity that can take a significant toll on your property and basement in particular. As destructive as water damage is, the mold created by the invasive moisture is just as damaging, if not more.
Not only can mold impact your property, but the spores can significantly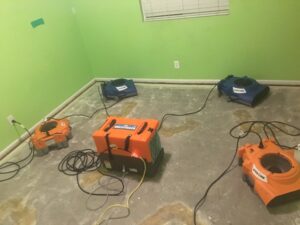 influence your health. Mold spores are a potent allergen that typically affects your respiratory system.
Regularly inhaling spores can cause you to experience allergy symptoms such as headaches, congestion, wheezing, fatigue, skin irritations, and itchy eyes.
911 Restoration of Des Moines will keep you and your property protected against the effects of mold by providing thorough mold decontamination in Carlisle. Our technicians will act quickly to address both the water damage and mold growth.
Even though we will provide you with mold cleanup on a moment's notice, it is crucial to take steps to limit the mold's ability to survive. The best way to avoid mold growth is to stop basement water damage from occurring in the first place. 
It is essential to keep your basement as dry as possible, especially during the rainy season. Water damage on sheetrock can quickly promote mold growth. You can stop rain from soaking into walls and other porous materials by reinforcing any sealants and immediately fixing cracks in the foundation.
In the event of a basement or house flood, you need to remove all the wet items immediately. Your furniture and belongings should be moved to a dry, well-ventilated area so they can dry out completely. Our technicians will facilitate any necessary pack-out and storage procedures.
Ventilation is key to preventing mold growth. You should open windows, doors, and use fans to dry out water damage. You may need to remove a carpet due to water damage since mold spores thrive in wet textiles.
When dealing with a flooded basement, carpet removal is usually the best option. However, our technicians will conduct carpet drying services in situations where we can salvage the textile. We will always try our best to recover soaked furnishings, as long as we can do so without risking mold growth.
You can trust our repair tech to implement precise mold removal and water damage restoration. Call 911 Restoration of Des Moines the moment you experience a basement flooding incident. We will put your mind at ease by providing expert mold decontamination as soon as possible.
A Water Damage Company That Specializes in Mold Removal
When looking for the right mold restoration team in Carlisle, it is crucial to hire our water damage restoration company. Although water damage is what 911 Restoration of Des Moines is known for, we are experts in mold decontamination.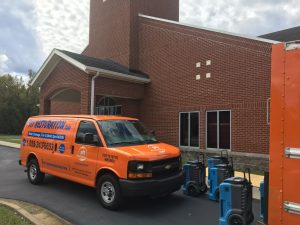 Understanding the connection between mold and water damage is vital to your recovery. The only way to guarantee a mold-free environment is to get rid of all excess moisture and thoroughly dry the premises.
Mold spores mainly travel by air and land on surfaces of the property, spreading the infestation. Airborne spores can lower the indoor air quality and substantially increase mold growth.
Our technicians will contain the infestation by using vapor barriers to stop other areas of the property from becoming affected during the mold removal process. We will remove moldy sheetrock and furnishings and dispose of the materials safely.
911 Restoration of Des Moines will go the extra mile to prevent reoccurring infestations. Not only for the sake of your property but your health. Certain types of molds can be hazardous to your health. Exposure to spores can cause allergies and respiratory problems.
The only way to determine the toxicity levels of the mold growing in your home or business is to test the spores. Our technicians will facilitate professional sampling and testing services by sending the spores to a third-party laboratory.
Once we determine the type of mold in your property, our technicians will take the appropriate measures needed to keep you and your family safe. So, call 911 Restoration of Des Moines when you need mold restoration today.
Servicing the cities of Altoona, Ankeny, Carlisle, Des Moines, Indianola, Pleasant Hill, Urbandale, West Des Moines, and the surrounding areas.