Mold Removal in West Des Moines
Under the right conditions, water damage and moisture issues can cause mold to grow on your property within a matter of days. The humid continental climate of West Des Moines also contributes to indoor mold problems. Regardless of how the mold forms, 911 Restoration of Des Moines will entirely eradicate the infestation. Our technicians are experts at both residential and commercial mold remediation. Not only do we provide mold removal in West Des Moines including air quality sampling, but water damage restoration as well.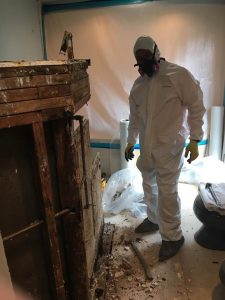 The only way to ensure a successful mold cleanup job is too address any leak or flood damage contributing to the infestation. Our technicians will conduct a free mold inspection for the property owner, where we will also look for water damage.
You can trust us to take care of every aspect of the mold remediation, from the water damage repairs to the mold decontamination. 911 Restoration of Des Moines employs IICRC certified technicians who will fully restore your property from even the most severe infestations.
Our water damage company is licensed, bonded, and insured for your complete protection. No matter what the situation, our staff members will be by your side, guiding you through the entire ordeal.
Along with thorough water and mold removal services, our technicians provide professional mold sampling and testing services. By testing mold spores, we can determine whether or not hazardous fungi are living in your home or business with air sampling.

Your safety is always at the forefront of everything we do, especially when dealing with mold. So, call 911 Restoration when you need full-service mold cleanup in West Des Moines today!
Understanding the Health Risks Associated with Mold Exposure
Even though mold spores are always around us, they only become a health risk when exposed to moisture. When the spores land on wet surfaces, they will begin to grow and spread throughout the property.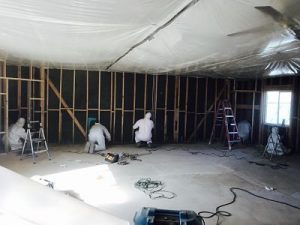 Once wet, the mold spores can produce allergens and mycotoxins that can cause minor seasonal allergy-like symptoms that can increase in severity to respiratory and asthmatic problems.
Allergic reactions to mold are not always immediate. Mycotoxins can wear down your immune system over time, causing you to experience fatigue, headaches, congestions, rashes, and other irritations.
You may experience these health issues when you inhale or touch mold. The best way to protect yourself is to hire professional mold removal technicians.
911 Restoration of Des Moines will take all the precautions needed to contain the mold infestation safely with air quality sampling. We wear hazmat suits and use vapor barriers to minimize our exposure and prevent further contamination.
Our technicians will provide mold decontamination services that address all the factors contributing to the infestation. We stop mold infestations at the source and implement preventative measures to stave off any regrowth.
To 911 Restoration of Des Moines, mold cleanup is more than just wiping down the surfaces of your property. We get in deep to ensure your home or business passes our mold clearance test with air sampling.
Call our experts when you need help from a team that cares and understands what you need to overcome a mold infestation in West Des Moines. You can trust 911 Restoration to make your property a safe place once again.
Our Mold Removal Experts Will Give You Peace of Mind
Due to the significant impact that mold has on both your property and your health, it is crucial to hire a restoration company you can trust. 911 Restoration of Des Moines will guide you through all the mold cleanup procedures.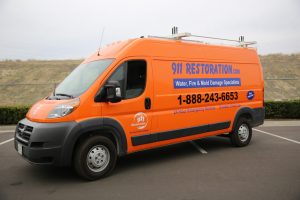 We understand that giving you as much information as possible about your situation is the best way to keep you feeling confident about the process.
Our technicians will answer all your questions and give you recommendations on how to keep your property mold-free. There are some simple steps you can take to facilitate mold prevention.
The main thing you want to do is control the moisture level inside the property. You can do this by managing the indoor humidity, promptly fixing leaks, drying after a flood, and keeping the property well ventilated.
911 Restoration of Des Moines also offers professional sampling and testing services if you have concerns about the hazardous nature of the mold inside your home or business.
Our onsite technicians will take spore samples from your property and test them at a third-party laboratory. By analyzing the spores, we can determine whether or not the mold is hazardous.
Regardless of the test results, our repair techs treat every job with the same vigor. We meticulously conduct mold decontamination services to ensure we sanitize your property thoroughly.
Call 911 Restoration of Des Moines when you need mold removal services from the most qualified technicians in the industry with air quality sampling. We will show you that a Fresh Start is possible today!
Servicing the cities of Altoona, Ankeny, Carlisle, Des Moines, Indianola, Pleasant Hill, Urbandale, West Des Moines, and the surrounding areas.