Mold Removal in Ankeny
Mold thrives on moisture. Humidity especially increases mold growth, which is a significant aspect of Ankeny's climate. When mold spores are in humid, warm conditions, they can multiply quickly. 911 Restoration of Des Moines will help you when your property is affected by a mold infestation. With thorough mold removal services, our technicians will completely clean and sanitize your home or business and do an air quality sampling. We are experts in conducting both residential and commercial mold decontamination in Ankeny.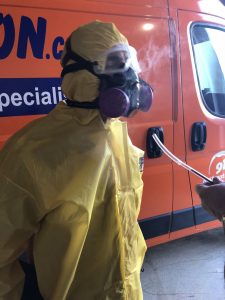 Our technicians will start the mold restoration by giving the property owner a free mold inspection. This assessment will allow us to formulate an estimate of the mold remediation needed to restore your home or business.
We want you to feel comfortable with all the work conducted on your property. You can trust in our technician's ability to provide expert mold cleanup. 911 Restoration of Des Moines hires IICRC certified technicians and is licensed, bonded, and insured for your protection.
As damaging as mold is to your property, it is just as hazardous to your health. We realize that toxic mold spores need to be removed from the premises immediately. You can depend on our team to sanitize your property thoroughly so you can feel safe inside your home or business.
Our staff cares and understands what you need from a mold restoration company. Not only will we take care of your mold problem, but we will address any water damage issues that are contributing to the infestation.
When you need full-service mold removal in Ankeny, call 911 Restoration of Des Moines. Our technicians will show you that a Fresh Start is possible today with air sampling!
Basement Water Damage Can Quickly Lead to Mold Infestations
The basement is an area of the property that is predisposed to staying damp throughout the year. Since the summer months in Ankeny are typically wet and humid, it is essential to be on even higher alert for mold during this time.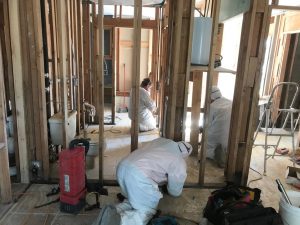 Outdoor and indoor factors can increase the moisture levels in the basement during the summer. When water damage invades the dark, warm basement environment, mold is almost inevitable.
It only takes 24 hours for spores to grow after exposure to moisture. However, you can stop infestations from occurring by staying aware of the most common causes of summertime basement water damage.
Thunderstorms are most prevalent in May, June, and July. These storms create heavy rainfall that often leads to basement flooding. You can stop basement water damage by installing sump pumps, applying sealants on your walls, and added check valves on your pipes.
While summer rain showers are frequent, there are other more unexpected ways for water damage to form inside your property. Air conditioning units can cause excess water to leak into your basement by seeping into walls, floors, and carpets. It's vital to promptly fix even minor AC unit leaks since this moisture can eventually make its way into the basement and cause mold.
Your sprinkler system can also be the cause of basement water damage and mold. If the sprinklers are facing the property, the constant water can leak into your foundation and the basement. Indoor puddles may form without your realizing for quite some time.
Lack of rain can also be a contributing factor to mold growth. A summer heatwave can dry out the soil around your property, causing a situation where the underground pipes shift. Old, worn-out pipes can crack while they move, leading to a leak or pipe burst in the basement once the water starts flowing.
911 Restoration of Des Moines is ready to provide water damage and mold removal right when you need help. Call our technicians the moment you discover signs of either issue in your property. We will conduct thorough mold decontamination services to ensure your basement is a safe place for you and your family.
Exceptional Customer Service is Integral to the Mold Removal Process
Finding a mold infestation on your property can be shocking. Understandably, your safety is the first thing you may question. 911 Restoration of Des Moines is here to reassure you that everything is going to be ok with air quality sampling.
Part of our job is ensuring you receive exceptional customer service. To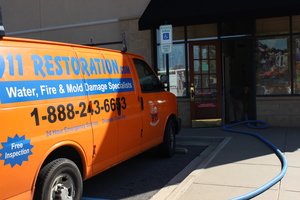 our staff, this means answering questions, providing information, and helping you with all aspects of the mold decontamination process.
If you have concerns about the type of mold growing on your property, we will facilitate professional mold testing services.
Our technicians will gather samples and have them tested at a third-party laboratory to determine the spores' toxicity.
Whatever the results of the test, our repair techs will take all the appropriate mold decontamination steps needed to sanitize your property and keep you safe.
Our technicians work meticulously to ensure we do not spread spores to unaffected areas of the home or business. If we need to remove moldy sheetrock or other materials, our technicians will do so with precision.
When you call 911 Restoration of Des Moines for mold removal, you will receive help from a staff that cares about you. We will guide you through the restoration work into the Fresh Start you deserve with air sampling.
Servicing the cities of Altoona, Ankeny, Carlisle, Des Moines, Indianola, Pleasant Hill, Urbandale, West Des Moines, and the surrounding areas.