Water Damage in Urbandale
Between the severe seasonal weather patterns and normal property wear and tear, leaks and floods can pervade your property at any time. It is crucial to address these water damage issues immediately to prevent structural problems, rot, and mold growth. 911 Restoration of Des Moines stays available 24/7/365 to ensure you never have to wait long for water damage restoration in Urbandale. Our technicians will respond within 45 minutes, no matter what time you call. As soon as we arrive, our repair techs will give the property owner a free water damage inspection. This will allow us to formulate an estimate of the water restoration needed to restore your home or business fully.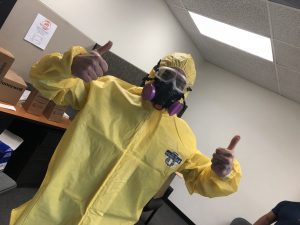 911 Restoration of Des Moines understands that there is no time to waste when dealing with water damage. We always arrive ready to begin same-day flood cleanup services. The quicker we contain the moisture problem, the better we can avert permanent damage and mold.
You can trust that our technicians are the most qualified in the business. 911 Restoration employs IICRC certified professionals that are backed by the Institute of Inspection Cleaning and Restoration. 
We want you to feel safe and secure when you are under our care, which is why we are licensed, bonded, and insured. When you work with our technicians, you can be confident that we will protect you from any situation that may arise.
Our repair techs are well-versed in the specific leak and flood disasters that impact Urbandale. Each branch is locally owned and operated, making our staff experts in the regional water damage issues.
When you need leak or flood cleanup services, call the water extraction company you can depend on the moment you need help. 911 Restoration of Des Moines will turn your water disaster into the Fresh Start you deserve!
Understanding The Signs Your Property Has a Plumbing Problem
Residential and commercial properties in Urbandale are susceptible to plumbing problems. Issues with water pipes, sewers, drains, and faucets are some of the leading causes of water damage in both homes and businesses.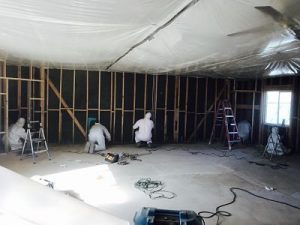 Sometimes you may experience a minor dripping faucet or running toilet, but the time may come when a plumbing emergency occurs that requires professional assistance.
While 911 Restoration of Des Moines is available around-the-clock to provide you with emergency flood cleanup in Urbandale, our technicians want to help you prevent issues from happening altogether.
By staying aware of the signs of a significant plumbing problem, you can save yourself time, money, and many sleepless nights wondering about that dripping sound in the kitchen.
Pipe discoloration is a clear signifier of moisture issues. These stains can point to a serious problem, such as a slow leak in the water supply line. Plumbing supply lines are pressurized, and a leak can eventually turn into a pipe burst.
Weak water flow is another indicator of a bad plumbing situation. If the water pressure is low in several spots on the property, then you may have an active leak in the main water line. You need to address this type of leak right away, not only to bring your water pressure back but to save you from receiving a huge water bill.
The only thing worse than a weak water flow is zero water flow. If you suddenly can't get any water to come out of your faucets, then you most likely have a frozen pipe. Frozen pipes are prevalent in Urbandale during the winter when temperatures drop below freezing. Frozen pipes almost always result in a pipe burst and need to be dealt with immediately.
911 Restoration of Des Moines expertly understands how to mitigate all these plumbing issues and more. We will conduct prompt water damage restoration that addresses the pipe leaks, flooding, and structural damages.
Call the water extraction company that has spent decades providing comprehensive water clean up services. We will show you how our technicians can overcome any plumbing disaster today!
Customer Services is an Essential Part of the Water Damage Restoration
911 Restoration of Des Moines is as dedicated to providing top-notch customer service as it is conducting water damage restoration. We will put your mind totally at ease as soon as we arrive by taking on all the water cleanup responsibilities.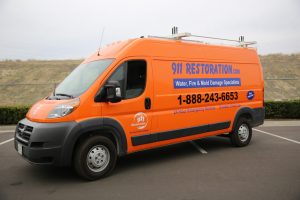 Our repair techs will walk you through all the restoration procedures, from explaining the water damage repairs to filing your insurance claim.
We realize that understanding the water damage repair cost is one of the first things you want to know. 911 Restoration is proud to offer competitive water restoration rates, as well as accept all insurance.
Our staff wants to keep your out-of-pocket expenses as low as possible. We offer free insurance consultations to ensure you fluently understand your policy.
The best way to get optimal coverage is by sending your provider as much detailed information about the damage as you can. Our technicians will help you take inventory of your losses so you can submit an itemized list of the damages along with your insurance claim.
To ensure you receive the insurance coverage you deserve, we will take care of the entire submissions process by filing your claim and directly billing your provider. By allowing us to handle all the insurance logistics, you can focus on more important things while our staff takes care of everything.
Call 911 Restoration of Des Moines when you need full-service water damage restoration from a team that cares and understands what you need from a water extraction company. Our technicians will use flood cleanup services to give you a Fresh Start today!
Servicing the cities of Altoona, Ankeny, Carlisle, Des Moines, Indianola, Pleasant Hill, Urbandale, West Des Moines, and the surrounding areas.