About Us
A Family Owned Restoration Company
911 Restoration of Des Moines is owned and operated by John and Nichoel Gabriele, a husband-wife team dedicated to hard work and their local community.
John has an extensive background in carpentry, and his transition from employee to entrepreneur began with one memorable project. He was working on a remodel of a historical hotel, forced to do a job that didn't meet his own professional standards. "They cut corners every chance they could," John explains. "On a historical remodel, there's a certain percentage of things you're supposed to save and reuse. Those things were getting thrown out. They were putting in low-cost cabinets and just really cutting corners, so I was really upset about that."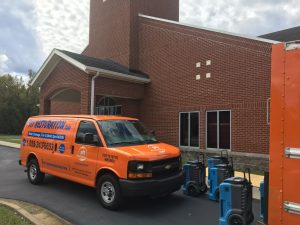 Only two weeks into that project, John sustained an injury on the job. When he learned that his company wouldn't cover the surgery needed to get back on his feet, he quit. He'd already begun doing side jobs and had a stable of existing clients, so he took the opportunity to build a career on his own terms. Not that it was easy.
"I quit halfway through the week, and I got a $500 check, so I took that check, bought some extra tools, and financed a truck that cost me $1,000 a month that I couldn't afford. I couldn't pay my bills, but I worked harder than I've ever worked in my life." It paid off. In his first year of business, John made $500,000. He doubled that in his second year.
Along the way, John's wife Nichoel was there to offer support both as a spouse and as a business partner. He describes her as a "real estate agent / full-time mom / accountant / office manager / real estate investor." Or, in short, "I call her a superhero."
Now, John and Nichoel are the proud owners of 911 Restoration of Des Moines.
Working Hard to Raise the Bar for Restoration
When John first decided to run his own business, he promised himself two things. One: he would never have a company that did not care about its employees. Two: he would always set goals higher than he thought he could achieve, knowing that striving for better-than-excellence would push him to be the very best.
This drive and dedication to a supportive company culture are among the qualities that make John such a great match for 911 Restoration. He and Nichoel spoke to about 30 other franchises before deciding that 911 Restoration was the company for them. They love the camaraderie both at the corporate level and among franchisees who have 1,000 miles between them. 
911 Restoration boasts an incredibly high standard of service. Every restoration technician at every franchise must go through extensive training and hold IICRC certification. These professionals must be prepared to show up in 45 minutes or less when disaster strikes. They also promise to provide any service necessary to fully restore a damaged property. In other words, the bar is incredibly high.
As far as the Gabrieles are concerned, "incredibly high" is where the bar should always be.
Providing a Fresh Start for the Local Community
911 Restoration is all about the Fresh Start spirit. This means every team member across the country is dedicated to turning a bad situation into a promising new beginning. And as a locally owned and operated company, 911 Restoration of Des Moines is especially focused on your wellbeing.
John and Nichoel are both active members of the community. They participate in a local Secret Santa every year and serve Thanksgiving dinner to the homeless. They also sponsor local events. 
Above all, Des Moines is where they've chosen to raise their seven children. John and Nichoel are both focused on constant self-improvement and being good role models for their kids. This includes giving their very best to their neighbors and the greater community. John genuinely believes that "Kindness always wins!" The proof of that philosophy can be found in the way he treats his employees and his compassionate approach to customer service. 
The owner sets the tone for an entire team. When you call 911 Restoration of Des Moines, you can do so with full faith that the Gabrieles' high standards and caring spirit will shine through the service their staff provides. Whatever damage you're facing, count on John and Nichoel to give you a Fresh Start.