Mold Removal in Pleasant Hill
Mold and mildew thrive in damp, warm environments. Pleasant Hill has a humid subcontinental climate that can create ideal conditions for mold growth in your property. When water damage is present, mold spores can begin infesting your home or business within a few days. 911 Restoration of Des Moines understands the urgency of prompt mold removal in Pleasant Hill. Our technicians will provide water damage and mold restoration services to ensure the infestation does not reoccur.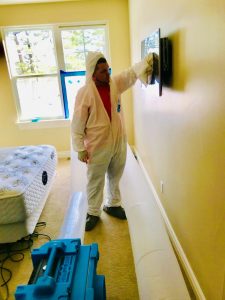 We will begin the mold cleanup process by giving the property owner a free mold inspection. This assessment will allow us to formulate an estimate of the mold removal and water damage repairs needed to restore your property entirely.
911 Restoration of Des Moines employs IICRC certified mold specialists that are experts at both residential and commercial mold restoration. Whether you own a home or a business, we will completely eradicate even the most severe mold infestations.
We want you to feel safe and secure when you hire 911 Restoration of Des Moines. You can be confident in our ability to protect you in every situation because our entire operation is licensed, bonded, and insured.
When dealing with mold, it is crucial to work with a restoration company you can wholly trust. Spores can be as hazardous to your health as they are damaging to your property. We will work meticulously to ensure your home or business passes our mold clearance test.
So, call 911 Restoration of Des Moines when you need comprehensive mold decontamination services. Our professionals will show you that a Fresh Start is possible today!
Emergency Water Removal to Prevent Mold Growth
Indoor moisture issues are the leading causes of mold and mildew growth. The only way to completely get rid of a mold infestation is to address any water damage on the property.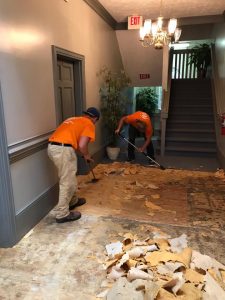 911 Restoration of Des Moines understands that water damage restoration is integral to the mold removal process. You can depend on us to act quickly when leak and flood damage impact your property.
On top of checking for signs of mold, our technicians will look for water damage during the initial mold inspection. We use infrared leak detection technology to find hidden moisture spots inside walls, flooring, and ceilings.
Our repair techs will conduct same-day water extraction, drying, and dehumidifying services as soon as we arrive. By quickly taking care of the moisture problem, we will minimize mold growth and prevent future infestations.
Our mold prevention strategy involves structural drying and reconstruction procedures. Our technicians will remove water damage on sheetrock and discard of any building materials safely, as to not contaminate other parts of the property.
When you need complete mold cleanup in Pleasant Hill, call 911 Restoration of Des Moines. Our professionals will conquer your mold and moisture problems to give you the peace of mind you deserve!
Our Mold Cleanup Technicians Put Customer Service First
911 Restoration of Des Moines realizes that you are in a vulnerable spot when you call us in need of mold removal services. Our staff members want to make this time as easy on you as possible.
We are known for our customer service, and our technicians make it a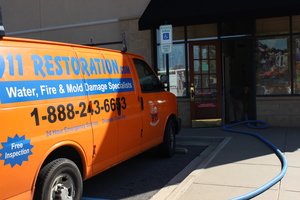 central part of the mold cleanup process. It is our responsibility to keep you feeling positive about all the work we conduct on your property.
Our staff is here to guide you through every step of the mold restoration. We will answer your questions and give you all the information you need to understand recovery procedures.
If you have concerns regarding the hazardous nature of the mold living in your home or business, our technicians will facilitate professional mold testing services.
We will take mold samples from your property and have them tested at a third-party laboratory. Once we determine the toxicity level of the mold on your property, our repair techs can conduct a mold decontamination effort explicitly designed to keep you and your family safe.
You deserve to receive help from a team that cares and understands what you need from a mold removal company. So, call 911 Restoration of Des Moines for the full-service mold restoration you need today!
Servicing the cities of Altoona, Ankeny, Carlisle, Des Moines, Indianola, Pleasant Hill, Urbandale, West Des Moines, and the surrounding areas.