Sewage Cleanup
Whenever there are situations in the property involving sewage, it is crucial to act with urgency. Sewage, also known as black water damage West Spring, is filled with toxins, bacteria, and waste that can be harmful to your health. 911 Restoration of Des Moines will respond quickly to sewage backups, guaranteeing that technicians will be at your door within 45 minutes. The office is open 24/7365, so you can call the moment you need sewage restoration. As soon as technicians arrive, they will assess the damage by conducting a free visual inspection for the property owner.
911 Restoration of Des Moines will never keep their customers waiting. Once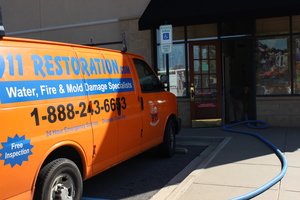 technicians understand the extent of the sewage water damage, they will administer same-day, restoration services.
Customers will be completely taken care of throughout the entire sewage restoration process. Technicians will safely remove and dispose of the sewage water damage, as well as thoroughly sanitize and deodorize the premises.
When you hire our water damage company, you can feel confident that the most qualified repair techs are on the job. 911 Restoration of Des Moines employs IICRC certified technicians who are trained to administer sewage cleanup in both residential and commercial flood cleanup properties.
Keeping you safe and protected throughout the entire process is the top priority, which is why the whole organization is licensed, bonded, and insured nationwide.
As a locally owned and operated restoration company, customers can be sure that the technicians assisting them are trained to mitigate the specific sewage water damage issues that affect West Des Moines, Urbandale, and the greater Des Moines area.
Call the restoration company you can trust to get your property thoroughly sanitized after it has been affected by a sewage overflow. Our technicians will take care of everything to give you peace of mind today.
Understanding The Causes Of A Sewage Backup
Sewage is one of the most hazardous elements that can influence a household, and these situations need to be handled with care by experienced professionals.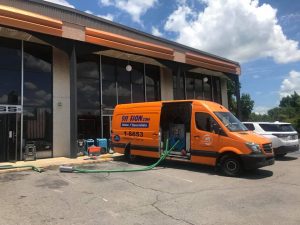 911 Restoration has been in the industry for decades, and they have seen just about every sewage emergency. Property owners must be aware of the ways sewage backups can occur so they can implement preventative measures.
Clogs are the most common cause of indoor sewage water damage. When an obstruction occurs in the sewer pipe connecting your property from the city sewer line, it can result in a clog. Solidified oils, particular food wastes, hair, paper towels, and other materials create blockages.
Tree roots are a significant factor in causing problems with sewer lines. They travel to the perceived moisture and grow within the system, often cracking and breaking pipes.
Some property owners attach their stormwater system to their sanitary sewer lines to decrease the volume of wastewater used in the property. Unfortunately, by doing so, your chances of incurring a sewage backups increases. The sewage line can become flooded during a storm and overflow into the property.
By understanding the ways black water can enter your home or business, you can take measures to prevent the situation from occurring in the first place. However, no system is failsafe, and when you need sewage restoration services, you can call 911 Restoration of Des Moines.
Full-Service Assistance With Sewage Restoration
911 Restoration of Des Moines is the only company you will need to hire when you find yourself amid a sewage disaster. We are capable of handling every aspect of the restoration, from the sewage cleanup to the insurance logistics.
As soon as technicians are on the scene, they will thoroughly inspect the area to come up with a repair strategy. Repair techs will focus on decontamination procedures and permanent odor removal, as well as repairing any water damage created by the overflow.
In some cases, it may be necessary to remove your furniture and other belongings from the property to conduct the restoration services. Technicians will perform the pack-out and storage procedures.
Once technicians have determined the extent of the damage, staff members will assist you with communicating that information with your insurance company. 911 Restoration offers their customers free insurance consultations to help you receive the coverage you are entitled to receive.
On-site technicians will assist you with taking inventory of the sewage damage and compiling the data into an itemized list to submit to your insurance provider. Staff members will directly bill your insurance company and file the claim for you.
When you need comprehensive sewage backup services, you can count on 911 Restoration of Des Moines to arrive quickly to help. Call the technicians you can trust to give you a Fresh Start today!
Serving the communities of Altoona, Ankeny, Carlisle, Des Moines, Indianola, Pleasant Hill, Urbandale, West Des Moines and surrounding areas.