Water Damage in Des Moines
Weather Alert: If you are experiencing weather-related damage from the storm, call us today for emergency assistance! 
911 Restoration of Des Moines
Living in an area with such high precipitation levels automatically puts the homes and businesses in the region at risk of experiencing rainwater leaks and indoor flooding.
Fortunately, the technicians at 911 Restoration of Des Moines are ready to clean up water damage on a moment's notice. It doesn't matter if it's day or night, they will assist you with immediate water cleanup services. Call us at (515) 206-8720 and see how we can help.
Customers can expect to receive complete water extraction, drying, and dehumidifying services. Technicians will repair any structural damages and check the premises for signs of mold.
When you work with our crew members, you will never have to wait longer than 45 minutes for emergency water damage restoration. Technicians administer fast and efficient flood damage cleanup to minimize your losses and prevent mold.
Call the team you can trust to execute a water restoration strategy that is sure to recover your property in full, no matter how severe the situation may appear.
At 911 Restoration of Des Moines, we offer a Fresh Start with our comprehensive selection of property damage restoration services, including but not limited to:
Whether you're a Des Moines homeowner or business owner, 911 Restoration of Des Moines is your Fresh Start! We'll communicate with you throughout the entire process, help answer questions related to insurance, and restore your property to its pre-damaged condition. One of our IICRC-certified teams is dispatched within 45 minutes of your call! Contact us today, and one of our friendly representatives will assist you in finding the nearest Des Moines location.
Water Damage Restoration
Between the hot, humid summers and cold, snowy winters in Des Moines, there are many opportunities for water damage to impact your property. When you experience house flooding or rainwater leaks, 911 Restoration of Des Moines will respond immediately with water damage restoration services. Our office is open 24/7/365, so you can contact us at the moment a disaster occurs. Our technicians guarantee to arrive within 45 minutes of receiving your call, no matter what time you call. We will begin the water clean up service by giving the property owner a free water damage inspection and estimate.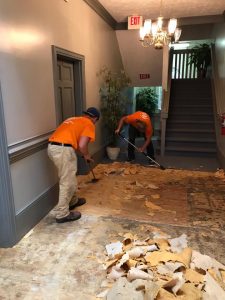 Our technicians understand that there is no time to waste when dealing with indoor moisture issues. 911 Restoration is prepared to provide high-quality water damage restoration in Des Moines the moment you need help.
The faster we address the water damage, the better the chances are of minimizing your losses. We will conduct same-day flood cleanup that includes water removal and structural drying services.
Mold is often a byproduct of water damage West Spring, especially in the Des Moines humidity. By working quickly and efficiently, our technicians will repair water damage before it starts a mold infestation.
If mold has already begun growing from the leak or flood damage, you can count on 911 Restoration of Des Moines to come up with a mold removal plan to decontaminate the property thoroughly.
You can trust that our technicians will successfully restore your property from any scenario. 911 Restoration employs highly-trained, IICRC certified technicians that are experts at residential and commercial flood cleanup water damage restoration.
Call 911 Restoration when you need leak repairs or flood cleanup in Des Moines. Our licensed, bonded, and insured water extraction company will show you that a Fresh Start is possible!
Emergency Pipe Burst Repairs
Wintertime in Des Moines can be bitterly cold. These elements can impact your property in ways that cause both structural and water damages.
The freezing temperatures have a significant effect on your plumbing system. When pipes freeze, they can crack and break, which leads to pipe bursts and house flooding issues.
Pipe bursts can cause extensive flood damage in a short period, making immediate flood cleanup vital to your recovery. 911 Restoration of Des Moines stays available around-the-clock so that you can call us day or night for help.
While pipe bursts can occur anywhere, they most commonly occur in the basement. These rooms are particularly prone to water damage that can go overlooked due to their underground location.
You can trust our technicians to provide emergency, basement flooding repair services after a pipe burst. We will immediately contain the floodwater and conduct thorough water removal.
The flood cleanup process includes drying and dehumidifying services to ensure we extract all lingering moisture from the premises. Any stagnant water damage on sheetrock can cause rotting and mold in pipes growth that can lead to structural damages.
Our IICRC-certified technicians are capable of handling all the water damage repairs needed to restore your property in full. We will perform basement flooding cleanup, pipe burst repairs, and carpet drying services.
Call the water extraction company you can depend on! 911 Restoration of Des Moines will provide you with the water damage restoration you need to have peace of mind today!
Comprehensive Water Damage Repairs After a Snowstorm
The cold climate in Des Moines generates snowstorms and blizzards that can not only cause water damage but impact the structural integrity of your property.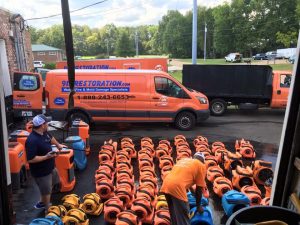 Although rare, snow can overload your roof and cause it to collapse. If the weight doesn't cause a full collapse, portions of the roof can become too compressed with packed snow and cave-in. Roof damage of this magnitude can allow snow and debris inside.
Ice dams can also damage the roof, gutters, and siding. A buildup of ice on the eaves of the property can get under the shingles, open up cracks, and leak water indoors once the snow begins to melt.
Snowmelt can leak through small cracks in your roof and foundation. These leaks can create water damage on your walls and even flood your basement. The cycle of melting and freezing snow can add more cracks to your property over time.
911 Restoration of Des Moines has years of experience conducting water damage restoration after snowstorms. Our technicians will address leaks, floods, and property damage, leaving your property looking better than new.
So, call 911 Restoration of Des Moines as soon as you need full-service water restoration. Our repair techs care and understand what you need to make a complete recovery after a snowstorm today!
Serving the communities of Altoona, Ankeny, Carlisle, Des Moines, Indianola, Pleasant Hill, Urbandale, West Des Moines and surrounding areas.