Water Damage in West De Moines
Living in West Des Moines means your property is at risk of feeling the impact of rain and snowstorms, both of which can cause ceiling leaks and house flooding issues. If these incidents should arise, there is no reason for you to let water damage stagnate inside your home or business. You can count on 911 Restoration of Des Moines to assist you with emergency water damage restoration the moment you need help. Our office is open 24/7/365, so you can contact us at any time, day or night. Whether the situation requires leak repairs or flood cleanup in West Des Moines, you can count on us to completely mitigate the water damage.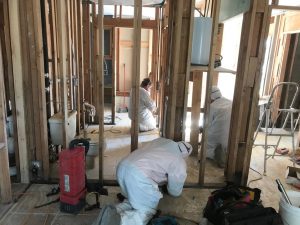 Our technicians will begin the water damage restoration by giving the property owner a free water damage inspection. This assessment will allow us to formulate an estimate of the water damage repair costs to limit any surprises during the restoration process.
We want you to feel comfortable with all the water restoration conducted on your property. You can trust that the most qualified repair techs are providing you with water clean up services. 911 Restoration employs IICRC certified technicians who have reached the highest standards in the industry.
Along with working with certified, experienced professionals, our water extraction company is licensed, bonded, and insured for your protection. When you hire 911 Restoration of Des Moines, you will receive assistance from a team that cares and understands what you need.
The Des Moines branch is locally owned and operated by professionals who expertly understand the specific water damage issues that affect West Des Moines. We know how the climate and other local factors influence homes and businesses.
When you need water damage restoration in West Des Moines, call our office right away. Our repair techs will show you that a Fresh Start is possible after any water disaster!
Winter Snowstorms Can Lead to Basement Flooding Issues
During the spring and summer rain and thunderstorms commonly cause basement floods. However, it is crucial to understand that basement and house flooding issues can also occur in the winter months.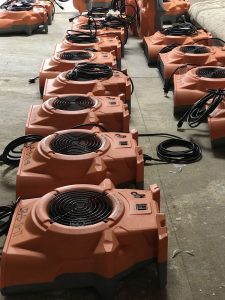 Winter snowstorms can result in significant water damage problems as soon as the snow and ice melt. When the snow melts on the ground, the ensuing water can flow into the property and seep into cracks in the foundation.
A poorly graded yard can eventually lead to the outdoor snowmelt flooding your basement. The water will not flow away from the property and instead seep into the foundation. If ice is blocking the floor drains, the obstruction can further exacerbate the flooding.
A significant snowmelt can quickly fill the basement and cause water damage to the walls, ceiling, and furnishings. If the indoor temperature is warm enough, then the flood damage can spark a mold problem in as short as 24 hours.
We understand that a basement flooding emergency requires immediate attention. The sooner your receive flood cleanup services, the better the chances are of preventing water damage on sheetrock and mold growth in the basement.
So, call 911 Restoration of Des Moines the moment you notice signs of water damage after a snowstorm. Our technicians will provide you with thorough flood cleanup and drying services to ensure you make a full recovery!
A Water Extraction Company That Puts Customer Service First
When a water disaster impacts your home or business, 911 Restoration of Des Moines understands you want things back to normal as quickly as possible. We will put your mind at ease by immediately taking responsibility for all the leak and flood cleanup services.
911 Restoration believes that water damage restoration involves more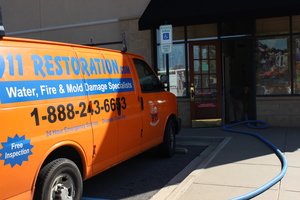 than just water removal and drying services. Customer service is an essential part of the recovery process, and we are ready to prove our dedication to providing that care.
We hope to give you peace of mind by providing affordable water restoration rates. Our technicians will answer the question of the water damage repair cost by formulating an estimate after the initial water damage inspection.
Along with competitive prices, 911 Restoration of Des Moines also accepts insurance. We offer free insurance consultations to ensure you fully understand your policy and coverage.
The more information your provider gets about the damage to your property and belongings, the more coverage you will receive. To aid you in gathering this information, our technicians will help you take inventory of your losses.
You can trust our staff to handle all the insurance logistics. We will submit an itemized list of your damages along with your insurance claim and directly bill your provider.
By guiding through every aspect of the water damage restoration, 911 Restoration hopes to create a positive experience. Our goal is to spread the Fresh Start attitude by acting with professionalism and consideration.
So, call the water damage company that puts customer service first. We will show you that a water disaster can be the Fresh Start you've been waiting for all along!
Servicing the cities of Altoona, Ankeny, Carlisle, Des Moines, Indianola, Pleasant Hill, Urbandale, West Des Moines, and the surrounding areas.