Water Damage in Pleasant Hill
If you own a home or business in Pleasant Hill, then the chances are high that you will experience water damage on your property at some point. Thunderstorms, tornadoes, and snowstorms are common occurrences throughout the year, not to mention the normal wear and tear that can lead to leaks and home flooding issues. Fortunately, 911 Restoration of Des Moines is available 24/7/365 to provide water damage restoration in Pleasant Hill. Whether you call day or night, our technicians guarantee to arrive within 45 minutes of receiving your call. We are always ready to begin same-day, emergency flood cleanup and leak repairs.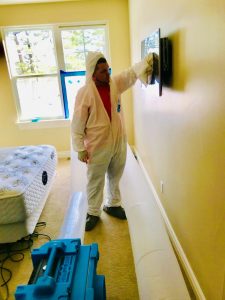 Once on the scene, our repair techs will give the property owner a free water damage inspection and estimate. During the surveillance, we will determine the extent of the damage and come up with a water restoration strategy.
Our office is locally owned and operated by a staff that expertly understands how the weather patterns in Pleasant Hill affect homes and businesses in the area. We have seen everything from storm disasters to plumbing leaks and everything in between.
We want you to feel confident in our ability to restore your property from any situation. 911 Restoration employs IICRC certified technicians that have reached the highest standards in the industry as set by the Institute of Inspection, Cleaning, and Restoration.
Your safety is always of our utmost concern, which is why our water extraction company is licensed, bonded, and insured. We want you to know that 911 Restoration will protect you under all circumstances.
There is no water disaster too big for us to handle. Call 911 Restoration of Des Moines when you need emergency water removal and drying services. Our technicians will respond immediately to get you on the path to a Fresh Start today!
Water Heater Failures Can Cause Extensive Water Damage Issues
You may not be aware of the risk that your water heater presents to your property. Even though rain and snow are a common cause of water damage, water heater mishaps are one of the top five reasons for indoor flood damage.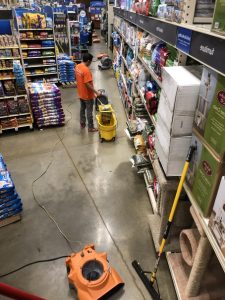 Most water heater tanks hold 60 gallons of water, making malfunctions capable of creating major house flooding issues. If you keep the appliances in the basement, you may not discover the water damage right away.
If a water explosion occurs overnight or while you are away, then you may not know how long the flood damage has been present. Since mold can grow within 24 hours of being exposed to moisture, emergency water removal is crucial.
Cold showers may be a sign that your water heater is failing. If the water doesn't heat up, then at the very least, the mechanism may leak. In these situations, you should check the heater and look for nearby puddles of water that could indicate a burst.
When your water heater leaks or bursts, it is essential to reach out for professional flood cleanup right away. Not only will 911 Restoration of Des Moines immediately dispatch repair techs, but our service agents will walk you through the steps to turn off your main water line. This will stop any water spraying out of the water heater.
Our technicians will begin the flood cleanup procedures as soon as we get on the scene. We will focus on drying and dehumidifying techniques to prevent rot and mold from forming. You can be sure that our comprehensive water damage restoration will leave the affected area dry and clean.
Call 911 Restoration of Des Moines the moment you notice a problem with your water heater or signs of water damage on sheetrock in the basement. We will conduct the thorough water clean up services you need to make a full recovery after any water disaster.
We Will Guide You Through the Entire Water Damage Restoration Process
As challenging as it is to deal with water damage on your property, 911 Restoration of Des Moines will make the experience go as smoothly as possible. We focus on making you feel entirely comfortable while our technicians conduct the water damage repairs.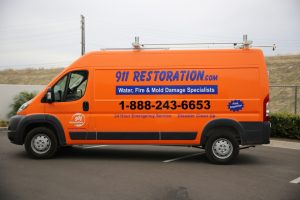 Our repair techs will put your mind at ease by giving you all the information about the water damage restoration. We will go over all the water clean up services you need after we finish the initial water damage inspection.
This assessment will allow us to formulate an estimate of the water damage repair costs. We understand you may have concerns regarding the water restoration rates, but 911 Restoration of Des Moines consistently offers affordable, high-quality services.
Not only do we provide competitive prices, but 911 Restoration accepts all insurance. If you have never filed an insurance claim before then, you may have questions about the submissions process.
To help make sense of your insurance plan, we will provide you with a free insurance consultation. By having a professional go over your policy, you will have a better understanding of your coverage.
It is essential to give your insurance provider as much detailed information about water damage in order to receive full coverage. Our technicians will help you take inventory of the damage so you can send an itemized list of your losses to your insurance company.
With 911 Restoration of Des Moines by your side, you are guaranteed full-service assistance throughout the whole water damage restoration process. Our technicians are available to answer all your questions, so you have complete peace of mind.
Call the team that cares and understands what you need from a water extraction company. Along with expert leak and flood cleanup in Pleasant Hill, 911 Restoration of Des Moines will provide you with exceptional customer service every step of the way!
Servicing the cities of Altoona, Ankeny, Carlisle, Des Moines, Indianola, Pleasant Hill, Urbandale, West Des Moines, and the surrounding areas.