Water Damage in Carlisle
It is essential to know that water damage can occur at any time of the year in Carlisle. Each month brings weather patterns that can create house flooding, pipe bursts, ceiling leaks, and many other moisture problems. When you find yourself in need of water damage restoration, 911 Restoration of Des Moines will respond within 45 minutes of receiving your call. Our office is open 24/7/365, so our technicians can assist you the moment you need flood cleanup in Carlisle. We will conduct same-day water clean up services that will leave your property looking better than new.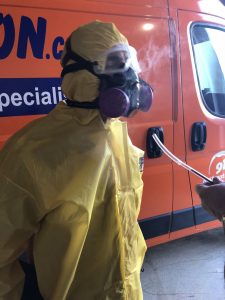 It is crucial that you feel comfortable with all the work conducted on your property. 911 Restoration of Des Moines will walk you through every step of the water damage restoration from start to finish
Property owners will receive a free visual water inspection as soon as our repair techs arrive. By conducting a visual assessment of the damage, we can provide you with a thorough estimate before we begin the water restoration.
With 911 Restoration by your side, you will receive help from the most experienced repair workers in the industry. We employ IICRC certified technicians and are licensed, bonded, and insured for your protection. 
As a locally owned and operated restoration company, our staff members are experts at mitigating the specific water damage issues that affect Carlisle. We understand how the local climate impacts properties and the importance of emergency water removal.
Our professionals are qualified to clean up water damage in both residential and commercial properties. There is no situation too big for us to handle.
We will never make you wait long for help when you need flood cleanup or leak repairs. So, call 911 Restoration of Des Moines the moment you notice signs of water damage in your home or business. We will show you that a Fresh start is possible today!
Snow Can Lead to Indoor Water Damage and House Flooding
Winter in Carlisle can be frigid. It is crucial to safeguard your property against the freezing temperatures and heavy snowfall. Otherwise, you may find yourself dealing with extensive water damage.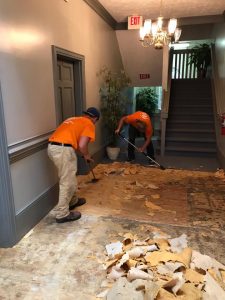 Snow and ice pose significant property damage risks that mainly affect the roof. Ice dams form when icicles build up along the eaves. They can severely damage the shingles and gutters to leak water into the property eventually.
Ice dams occur when the temperature under the roof is uneven. If the attic becomes exceptionally warm, the snow in that area will melt and flow down to the eaves where it then freezes.
Snowmelt has an even higher chance of creating water damage inside your home or business. When temperatures rise after a significant snowfall, it can melt and seep into the cracks of your roof and foundation.
The cycle of snow melting and refreezing can create more cracks to the roof and foundation over time. If the snowmelt and property damage is severe enough, the snow can leak into your walls and even flood your basement. 
There are steps you can take to prevent leaks and flooding after a snowstorm. You can insulate your attic, promptly seal any cracks, and ensure your roof has proper drainage. However, sometimes it is impossible to stop snow damage completely.
Since snow damage typically affects the roof, attic, and basement, professional leak and flood cleanup services are vital to your recovery. Our repair techs will get into all those hard-to-reach areas to ensure no water damage goes overlooked. 
Call 911 Restoration of Des Moines when you need full-service water damage restoration after a snowstorm. Our technicians will repair any ceiling leaks, house flooding issues, and structural damages to restore your property entirely.
Affordable, High-Quality Water Restoration Services
911 Restoration of Des Moines believes that everyone deserves access to water damage restoration in Carlisle. To ensure you can receive top-notch water clean up services, we consistently offer affordable water restoration rates.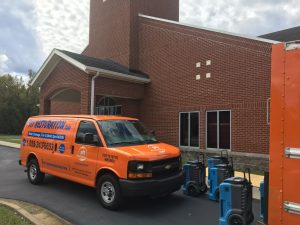 Along with keeping water damage repair costs low, we also accept insurance. We want to keep your out-of-pocket expenses low, so you can receive water removal right when you need it.
If you need help understanding your insurance policy, 911 Restoration of Des Moines will provide you with a free insurance consultation. Our professionals will make sure you get the coverage you're entitled to receive by filing your claim for you.
We want to make the submissions process go as smoothly as possible. Not only will we directly bill your insurance company, but our technicians will help you take inventory of your losses. The more information your provider has of the water damage, the better coverage you will receive. 
Customer service is an integral part of the water damage restoration, and we will prove how dedicated we are to providing you with full-service care. 911 Restoration of Des Moines will guide you through all the water damage repairs, from the flood cleanup to the insurance logistics. 
So, call the team that cares and understands what you need from a water extraction company. Our staff members will turn your water damage into the Fresh Start you deserve today!
Servicing the cities of Altoona, Ankeny, Carlisle, Des Moines, Indianola, Pleasant Hill, Urbandale, West Des Moines, and the surrounding areas.