Warning Signs for Burst Pipes This Fall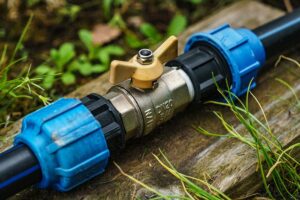 While most people associate burst pipes with freezing temperatures, pipes can break, burst, or leak at any time in the year. Any kind of build-up of water pressure can cause bursts. Thus, even clogs can cause burst pipes if they result in built-up water pressure.
Since burst and broken pipes can result in damage to your property and belongings, it's important to take plumbing problems seriously. Some signs are less obvious than others, but we have compiled a list of common warning signs for you to look out for. This way, you can call in the professionals before the problem worses and causes further damage.
Decreased Water Pressure
When you notice decreased water pressure, it can be attributed to silt in the aerator. However, this is restricted to certain faucets. This could signal a plumbing issue such as a blocked water line if you notice this throughout the house. It's important to take action right away by calling emergency plumbing services.
Bubbling Wall or Ceiling Paint
If you notice paint bubbling and peeling off walls and ceilings, it may be a sign of moisture. While this may be a roof leak, there's a chance it may be caused by faulty water pipes and leaks. Hidden leaks can be devastating if they're not caught early. The longer they stay hidden, the more damage they can cause, and the higher your repair and restoration bill will be. Stay vigilant, keep an eye out for this sign, and call a plumber to tackle the problem immediately.
Discolored Pipes
One of the major signs to keep an eye out for is discolored pipes. Whether you're grabbing supplies from under the kitchen sink or looking for items in your basement, check your water pipes for signs of discoloration. This can indicate moisture and could be caused by anything, from a dripping drain line to a leak in the supply line. Since a slow leak has the potential to turn into a disaster and cause severe property damage, you should get this checked out by professionals immediately.
Slow Drain
Everyone has dealt with a slow drain at some point in their lives. While this is usually a clog that is easily fixed, it could eventually evolve into something serious such as a pipe issue. A slow drain once in a while may result from clogs, but if this is a regular occurrence, it's important to call in the professionals and check if there are major issues that need to be addressed.
One of the biggest problems homeowners have to deal with is tree roots growing near sewer lines and causing sewage backup. Since this water can be dangerous, it's essential to deal with it immediately by calling professional sewage backup cleanup services.
Skyrocketing Water Bills
Is your water bill increasing for no reason? It could indicate a problem with your plumbing system. You may be dealing with a running toilet or another issue wasting both water and hundreds of dollars. Contact plumbing services to check your water pipes immediately to avoid further damage and loss.
Discolored Water
When you see discolored water, your mind may automatically go to corroded pipes or water heaters. However, this isn't always the case. If the discoloration isn't metallic or rusty, it may not be corrosion. Instead, it may be soil or dirt entering through leaks in the water pipe.
Either way, it's crucial to tackle this problem swiftly. In addition to dirt and sediment, the water may also contain heavy metals, which can be extremely dangerous to bathe in. Get your water pipes checked immediately.
Cracked Hardscape
Hardscape refers to hard parts of the landscape that can still be moved. This includes stone walkways and concrete patios. One of the warning signs of burst or leaking water pipes is cracked hardscape. This is because rising water can cause these structures to crack from the building pressure.
Foul Sewer Odor
Every drain needs a trap and a vent to prevent sewer gas from getting into your home. If a trap has run dry or there's a cracked vent line, you may start smelling sewer gas in your home. While traps can be easily fixed, the same can't be said for leaks. They have to be tacked down and thoroughly repaired to prevent future problems. Eliminate the foul odor from your home by calling professionals such as 911 Restoration of Des Moines.
Water Around Your Property
If there's water where it shouldn't be, like puddles on your lawn or in different parts of your garden, it could signal a leaking water line.
Water in the Street
Despite it not being on your property, water in the street can still signal water damage and leaking pipes. If you notice water in the street in front of your home, it may be coming from your property. Underground pipes may leak and bubble up through the street. Calling emergency plumbing services is essential to stop this leak.
Can 911 Restoration of Des Moines for Emergency Plumbing Services
Catching the problem early is key is when it comes to plumbing issues. This way, the damage can be stopped in its tracks before it gets significantly worse. One of the biggest issues with poor plumbing and burst or leaking pipes is the extent of damage they can cause in a relatively short period. In addition to water damage, you may have to deal with sewage backup or even mold formation.
That's why you need reliable restoration experts and plumbers to count down. Call 911 Restoration of Des Moines for any plumbing emergencies, water damage, mold, or sewage backup. Emergencies don't come with warnings. That's why you can reach our specialists 24/7 and expect an IICRC-certified team at your property within 45 minutes. Call us at (515) 206-8720 or contact us here.