Disaster Restoration Tools for Mitigating Water, Fire, or Mold Damage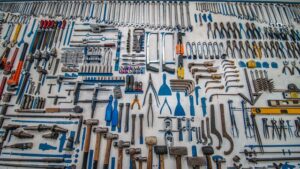 A storm, wildfire smoke, kitchen fire, sewage backup, flood, or any other disaster can bring significant challenges in a flash for residential property owners in Iowa. To contain, minimize, and repair the damage, you need to hire a home restoration service to maintain your property's structural integrity. However, you must ensure that the company you hire has the proper disaster restoration equipment to return your property to its pre-disaster condition.
In this post, we'll share the different types of tools and equipment used by disaster restoration companies in Des Moines to take care of water, fire, or structural damage repairs.
Types of Residential Property Damage and Disaster Restoration Equipment
Residential property damage occurs more often than most people think and can lead to serious financial repercussions for owners. The following is a list of the different types of damage your property can sustain following a disaster:
Wind and hail damage, which can lead to broken windows, damaged roofs, fallen trees, water intrusion, and damaged furniture.
Water damage in the event of a flood, storm, or sewage buildup, which can lead to damaged appliances, mold, pest infestation, weakened foundations, and stains on the walls, ceilings, and floors.
Fire and smoke damage, which can lead to destroyed furniture, soot buildup, damaged electrical and plumbing systems, and foundation damage.
List of Tools and Equipment Used for Disaster Restoration
As mentioned above, a property can sustain water, fire, and structural damage so the disaster restoration equipment companies use varies from situation to situation. The following is a list of the common tools and equipment used for disaster restoration:
1.    Measurement and Analysis Tools
Restoration experts use different measurement and analysis tools for different types of damages before they start working on them. For example, water damage repairs require moisture meters, leak detectors, and infrared cameras to locate the source. Similarly, Fire damage assessment involves completing a chemical sponge test by wiping a chemical sponge over stains to check for residue. To check for biohazards, they use hygrometers, pH meters, and psychrometers.
2.    Extraction, Drying, and Airflow Tools
Fire, water, smoke, and mold restoration all involve the use of industrial-grade airflow equipment before and during the cleanup. This includes:
Dehumidifiers
Air purifiers
Axial air blowers
Centrifugal fans
Self-propelled dump containers
Cavity dryers
Scrubbers
ULV floggers
Solvent-based deodorizers
Ozone machines
Hydroxyl machines for biohazard cleanup
3.  Structural Restoration Tools
Restoration teams use various hand-held and power tools for structural repairs, such as:
Sledgehammers
Crowbars
Oscillating multi-tools
Ladders
Lighting
Measuring tape
Pliers and snips
Wrenches
Paint strippers
Circular saw
Jigsaw
Cordless drill
Impact driver, etc.
4.    Vehicle and Deconstruction Machinery
Disaster restoration companies in Des Moines are equipped with a truck, van, or other utility vehicles that carry their extraction tools and equipment to and from the site. Depending on the extent of the damage, you'll also require deconstruction equipment, such as:
Excavators
Feller bunchers for tree extraction
Dozers
Skid steer loaders
Crane
Wheel loaders
5.    Cleaning Supplies
Water, fire, and structural damage require extensive cleaning and disinfection once before and after the repairs are done. This includes smoke & soot eliminating products as well flood & mold restoration cleaners, such as:
Multi-surface cleaner
Odor neutralizer
Thermo Fogg deodorizer
Water-soluble deodorizer
Moisture absorber
Deodorizing granules
Bio-enzymatic urine digester eliminator
Sodium hypochlorite
Soda lye
Oil dispersants
Self-emulizing cleaners
Ventilation biocides
6.    Protective Equipment (Safety Gear)
Disaster restoration is a  high-risk project that involves several health and safety hazards experts need protection from at all times. This is where personal protective equipment comes in as professionals use it at every stage of the restoration from assessment to structural repairs, cleaning, and completion. This includes:
Goggles
Rubber boots
Respirators
Hard hat
Gloves
Protective clothing
Earplugs
Face shields, etc.
Of course, the specific gear requirements will depend on the type of damage you're dealing with. Nonetheless, the equipment mentioned above is commonly used by most professionals regardless of the situation.
7.    Project Management Tools
In the modern age, home and commercial restoration services don't just rely on tools and equipment for the core tasks at hand. They employ disaster restoration, project management, communication, and accounting software to handle every aspect of the project from scheduling to equipment procurement, logistics, and worker management.
Expert Disaster Restoration Services – 911 Restoration of Des Moines
At 911 Restoration of Des Moines, we know what it takes to return your property to its pre-disaster condition. Following damage assessment, our team of engineers, technicians, and cleaners will use state-of-the-art equipment to take care of the most challenging repairs and cleanup. From industrial dehumidifiers to extractors, truck-mounted vacuums, and power tools, we use the latest disaster restoration equipment for faster and better results.
Feel free to contact us for more information regarding our water, fire, and structural Damage Repair services.