Why Are There So Many Fires in Des Moines and How to Deal With Them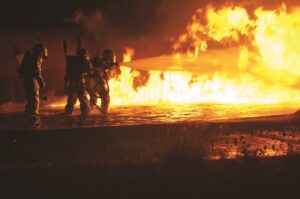 Are you concerned about the increasing number of fires in Des Moines? The capital of Iowa is an incredible city to live in and offers diverse employment and entertainment options for its residents. However, the city has seen a series of fire cases recently that have left many people concerned.
As a resident, you are likely worried about how fires will impact you and are looking for ways to mitigate fire damage. Since the 911 Restoration of Des Moines has experience handling fire damage restoration in the city, we want to help you understand the main reasons behind fires and how to manage them.
Reasons for Fires in Des Moines
There are multiple reasons why several Des Moines properties have been catching on fire, several of which can be avoided with basic care and responsibility.
1.     Problems with Electrical Wiring
Faulty electrical wiring in residential or commercial buildings is a major cause of fire damage in Des Moines properties. Although wiring problems are not as common in newly constructed houses, they do emerge in older properties that have not received adequate maintenance over the years.
The damage causes electricity to short-circuit, causing minor explosions that can set fire to equipment nearby, amplifying spread.
2.     Heating Equipment Damage
Water heaters are convenient, especially during winters, but they need regular maintenance to remain in the best possible condition. Since heating is their main function and is mostly powered by natural gas, unrepaired damage can easily cause gas leaks that can set the property on fire.
3.     Kitchen Fires
Kitchen fires are the most common causes of fire damage and are primarily a result of negligence. Leaving the gas open or forgetting to turn off the stove or over while cooking can result in mini-explosions that can trigger bigger explosions if the gas pipes burst.
Some fires are also a result of inexperienced cooking practices, like putting cold oil in a hot pan. It will set the oil on fire, putting you and your family in danger.
4.     Washing Machines and Dryers
Washing machines and dryers may not seem like risky equipment, but both have been responsible for starting several fires across the US. Reasons vary from lack of proper cleaning and maintenance to electrical fault in the system.
In either case, the fire damage can be devastating and result in extensive devastation to your house and belongings.
5.     Flammable Chemicals
Chemicals and gases are not common in residential properties, but they are present on industrial sites and other commercial buildings. Some of these chemicals and gases are easily ignited and need to be stored with due precautions to prevent accidents.
However, no matter how cautious you are, minor negligence or a series of accidents can cause these chemicals to catch fire, which spreads easily, engulfing the entire building.
How to Manage Fires in Des Moines
The good news is that there are several ways you can protect yourself or respond to fire damage.
1.     Get your House Inspected Regularly
Getting your house regularly inspected will reveal any wiring or plumbing damages you need repairs or maintenance. The better maintained your house is, the less likely it is for your systems to catch on fire due to minor errors suddenly.
2.     Always Turn off Stoves and Ovens
Always double check your stove and ovens after cooking, and do not let your kids near them because gas leaks can be disastrous. Natural gas is highly flammable and can easily cause an explosion if you even ignite a matchstick.
Practice the same care when cooking, and make sure you have turned the stove off if you need to head out for an urgent task. A little care can save you and your family members.
3.     Keep your Appliances Repaired
Electrical appliances deteriorate over years of usage, and you need regular repairs to keep them in good working conditions. Such repairs will also fix any electrical faults that may become apparent in your appliances and clean them out thoroughly.
4.     Leave the House in Case of Fire
If, despite all precautions, you get caught in a fire, run out of the house as soon as you can, and do not stay behind to grab your belongings. Your only priority should be to get yourself and your family out before calling your insurance providers and the 911 Restoration of Des Moines.
5.     Call 911 Restoration of Des Moines
Finally, once you know you are in the safe zone, give us a call. Our teams work 24/7 and will respond to your emergency immediately, arriving at your location within 45 minutes of the call. Fire damage restoration is a critical part of our services, and we will do everything we can to save your home.
Wrapping Up
In a nutshell, neglect and carelessness are often some of the most prominent reasons for fire damage, and you need to use inspections and repairs to prevent them as much as possible.
If you need fire damage restoration, call us at (515) 206-8720, or you can contact us on this link if you have any queries. Our team will be happy to answer your questions.